Kenneth Copeland Ministries
A suite of websites was built for KCM Europe, accommodating different languages; English, French, and German so far. The websites had to fit in with the USA head office branding, and also appeal to very different European audiences.Flow Online built a new website and created an online shop for over 1000 products, with a safe and secure debit and credit card payment gateway. Wanting to do everything we can to help the client to do more in-house, we used WordPress and Magento as the CMS platforms.
The main website uses WordPress CMS and has many complicated additions including a video modal automated to show the video of that day. Also a devotionals page to show that day's message, where you can choose from four different languages.
The shop required a specialist shop software rather than a restrictive plug-in. The KCM payment merchant didn't have a ready-made gateway, so we built one from scratch. Then we packaged it up and it is now used by others as a plug-in from their own card payment system to Magento.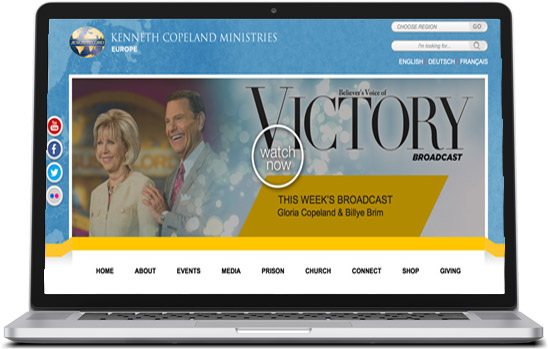 We also handle KCM's email marketing campaigns. KCM has a daily devotional email system, where people subscribe to one of six databases in four languages to receive an email automatically every day, using our sophisticated email system.
It has been a real privilege working with KCM for well over 10 years, and it is a great pleasure to constantly strive for further improvements to their business.
"Since finding SPF in 2004 they have been an important part of our marketing team. We have had to adapt and redesign our website and marketing often, and Flow have too, so it is no surprise they have always been proactive and shown great enthusiasm for our needs."
Mark Darbyshire, KCM.