Postgraduate Courses into an Online University
Dominic Hassall Training Institute
The problem with having a suite of brilliant courses is that you find it difficult to say no to new students, and you never get time to enjoy your family or get some time off. Success was already there for the Dominic Hassall Training Institute.
What we had to help Dominic achieve was the next step, after the success…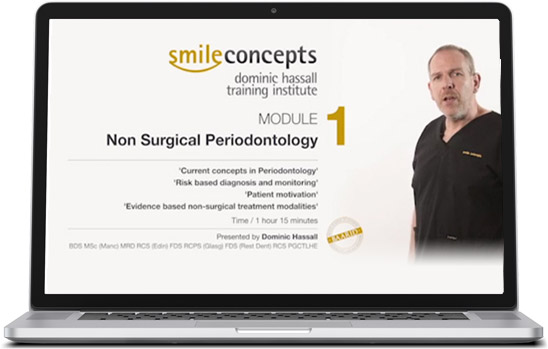 The Challenge
There are only so many lectures you can give and only so many people you can teach at one time. Dominic was full… to bursting point. He wanted to see more of his family, go on the occasional holiday, study even more, but there was no time. Everyone who has attended the courses has said it changed the way they worked forever, but Dominic wanted something better, for them and himself.
He wanted to reach people who lived and worked in countries where this type of advanced learning was not available, where dentists could make a big difference to their patients' lives if they could only get the right teaching.
Even in the UK he wanted to reach more dentists, but it is difficult to attend in-depth courses, not just because of the travelling and hotel expenses, but the average dentist practice loses around £1000 per day when a dentist is not there.
The solution was simple to us, put the courses online. But what about the quality of delivery, Dominic's friendliness, the experience of learning in a group? And then what about the hands-on practical parts of the course, and the all-important certificate at the end.
The Solution
The Dominic Hassall Training Institute now has the beginning of its own University, where all of Dominic's courses will reside. The delivery of the courses is done in the same environment, in the same classrooms, with quality videos and slides that can be as good as a live lecture, with the added bonus of being able to pause it when you want to.
The courses are divided into modules and lessons, similar the offline version. All the hands-on parts of the course are split from the online lectures which take up the majority of the modules, and can be scheduled in much easier than before.
The courses all have a forum built in as well as a place to ask questions after every lesson video. This means you will have students who are doing the same courses as you, at a similar time, from all over the world, who you can interact with. Also direct questions can be answered by Dominic himself or one of his qualified colleagues about specific lectures.
The course notes and reading material is online too, saving trees and postage. All the lessons and course notes will be updated regularly, and these will be made available to students who took the courses in years past.
Sounds great doesn't it? Well, it is a great solution, but like most things, the audience needed to be shown that this new approach was right for them – not many people like change, especially when it can affect their career. Also, it was important for us to reach dentists all over the world, especially those in remote places.
This is where our Digital Marketing skills came to the fore. We didn't need to build a new website, they were happy with the current one, no, this was all about reach.
We used Social Media to create a buzz, dentistry magazines offline as well as online for advertising, squeeze pages, and a targeted email marketing campaign which built up to a crescendo as the new online course was launched.
The emails are all giving great, free content, yes, there is NO SELLING. Dominic loves this approach, and it works really well. There is still a lot of work to do. In early December we will be filming the promotional videos which will be about Dominic's story, and the opportunity students will get. These will be going out via email to the people who have opted in to the new email database.
The results so far are very encouraging, the buzz is going well in Social Media, and the feedback we have received is really favourable, and with many people going through the squeeze pages and onto the email database we are hopeful that many will convert.
And what about you?
If you have a course that could be presented online, or you have a service that could be turned into an online product, just get in touch. This is a new area which is showing huge growth and great success right now.
Don't miss the boat.