Chris and Kiz the new owners of Sun Valley Resort Holiday Park inherited a very dated and ineffective website. There was also the added complication that the domain name was held by an agency that would not negotiate the transfer. Needing to act quickly the first priority was to create a new domain name strategy.
The seasons were also against us. It was autumn so we were unable to create new photography for a holiday park that attracts most of its visitors in the summer months. The caravans needed to be shown bathed in sunshine and most of the existing imagery was dull and tired looking.
A peak in holiday bookings just after Christmas meant that we had to very quickly design and develop a new website and get it visible to search engines. With a change to the park name and a new domain name this was going to be a challenge.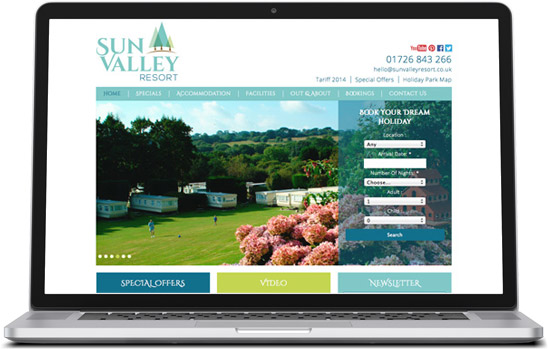 Chris and Kiz had a huge refurbishment plan for the whole park including the caravans, communal and public areas, facilities and the bar and restaurant. Again we had no photography or images for a website that would be launched before the refurbishment was complete.
We mixed in some stock photos of nearby sights, manipulated the older images and used some stock images from the new caravan suppliers where appropriate, and organised the site so the visitor has the best journey possible to what they want to see.
After lengthy on-site meetings with the new owners we knew what was required. It is important with something so personal that an agency spends time finding out what the client really wants, what strategy is going to be successful for them and how they are going to be seen by the public.
The new website was designed from scratch and given a fresh and contemporary look, very different to the style used by most other holiday parks. We wrote the copy for the site, added the imagery, and in addition we added some professional videos.
A beautiful new website is great, but it needs visitors! The new domain name meant the best option was to use Google AdWords to drive traffic to the site. Organic traffic has now grown so much that this paid for service can be stopped.
The AdWords campaign was supported by social media activity. Accounts were set up for Twitter, Facebook, Google+, Pinterest and YouTube. The park now has an active Facebook community with over 300 'fans'.
The website continues to rise in the organic rankings and social media is engaging with potential customers. Sun Valley Resort has enjoyed a busy first summer and continued growth and improvement should mean a steady increase in market share.
"We are thrilled with the services from Flow Online. This year our holiday park is full, and when I search we are all over the internet! Amazing.. We are able to reduce advertising budgets whilst business is increasing. It is refreshing to deal with a company that really understands our business."
Chris Royden, Sun Valley Resort.