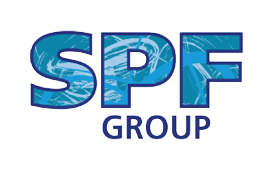 Most of all, we want to be pink and not blue…
SPF as a brand no longer has the same intensity it once did, Gary, Dom and Clare who work with us aren't interested in a swimming pool… and to be honest, it is a real mouthful to say on the phone, so we changed our trading name… from 5th November it is Flow Online.
The original dream was a swimming pool – not everyone's dream, but our dream. Myself and my daughter used to put swimming costumes on and present ourselves in the hall before Alan went off for meetings (no pressure of course!), and the logo was designed around a pool theme. Now we have all grown up and moved on.
Why Flow – because we have flowed steadily throughout the years, and flow is a powerful force… The internet is a vast sea of knowledge and opportunity, and we want to represent that in everything we do. We have wonderful clients and want to grow with them… we also want to show our potential clients we have the knowledge and the ability to flow between many different mediums, we want our clients to benefit from our 35 years of business knowledge, and most of all, we want to be pink and not blue…
Thanks, Tina
Tell us what you think of our new name and brand…