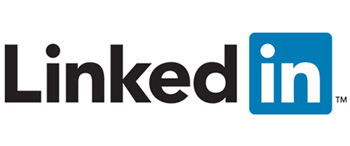 Although Twitter and Facebook have bigger profiles, LinkedIn has the biggest opportunity. Maybe not so sexy, but you should definitely consider it, as it could have the greatest potential.
Historically LinkedIn was set up as a recruitment tool, but it has come a long way since then. It is very powerful as everyone using it is in a business frame of mind.
Powerful business tool
LinkedIn is the largest professional network with over 100 million users worldwide, 20m in EU, and 4m in the UK. You will know a lot more about the person, including who they work for and what their position is.
Whereas my advice on FB was to build up your Page, in LinkedIn you should use your own personal profile. This would be too personal in Facebook and Twitter, but it is safer and more accepted in LinkedIn.
Company Page
This is a place where you can give more information about your products, services, job opportunities and company culture.
You can add your logo, plus 3 links – perhaps to your other Social Media, your blog, and of course your company website. Also add your 'specialities', this is great for people searching for your expertise. A really cool feature is to add RSS feeds, from your blog, Twitter, etc.
If you do nothing else…
This is a good place to start. If you have limited resources and don't have time because of other SM commitments, then just start here. You will be noticed, and a different audience will see your content.
Groups
LinkedIn Groups are more successful than on FB. Because it is a business network you can be more targeted. For instance, if you are a printing company, you could create a group for graphic designers to discuss different technical ways to produce brochures, and give information on cool print techniques. Or if you are a retailer selling TVs and cameras, you could start a group for film buffs, or photographers.
A great way to get noticed is to join other groups and post interesting content to them. Don't worry if the group looks inactive; they will get an email to show your content, so it may be better than it looks.
Advertising
This is a powerful platform for advertising, especially if it helps to target job titles.
Answer Section
This is a great opportunity to demonstrate what you know, by answering difficult questions related to your industry. You will become the expert.
Contact
With a premium account you can target certain groups and send them email. If you don't have a premium account you can still do this with a bit more work. There is much more information about them, and you can get the rest from their website, and follow them on Twitter.
Summary
Set up your page, and bring in your RSS feeds.
There are groups already there, so join them.
Use the advertising arena.
Use the answers section.
Have you found LinkedIn useful? Let me know what you think about it against other Social Media.