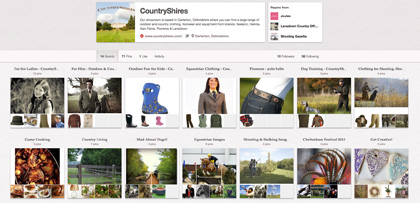 If your customers and the people that you want to reach are largely image responsive then Pinterest needs to be at the top of your list of social media options.
Contact us to help you get started.
What is Pinterest?
Pinterest is an online pinboard, an image based social media site that allows users to share images via the internet.
The basics
Pinterest launched in 2010, the iPhone app was launched in March 2011 and to date it is estimated there are approximately 11 million Pinterest users worldwide.  You can browse Pinterest to 'follow' users you find interesting; when you share something on Pinterest it is called a 'pin', when you share someone else's pin on Pinterest it is called a 're-pin'.  Images can be grouped together by theme or topic onto 'boards' on your profile.
What can I do with it?
You can share images that you find online or you can directly upload your own images onto Pinterest.  If you download the 'Pin It' button to your internet toolbar you 'pin' images from any website directly to your Pinterest boards.  You can also share your pins on Twitter and Facebook.  Pinterest is a very visual social network and the images are the main focus, there is room for a caption but not for status updates or messages as there is with Facebook.  However, for all Pinterest's subtle differences to other social networks, it is still a social network and, therefore, requires you to interact with other users for it to work.  You should be liking, re-pinning and commenting on content regularly to raise the profile of your business and to build relationships with other Pinterest users.
Why should I use it?
Pinterest is a really useful tool to promote new products and interact with customers and could be considered as the 'best choice' of all the social media options for businesses with a largely image responsive audience.  Create 'boards' for the products that you sell and always include a link back to your website.   However; don't make Pinterest only about the things that you sell as your followers will quickly get tired and bored.  Use Pinterest to promote a lifestyle or tap into the wider interest of your 'followers'.  Add 'boards' such as "Things We Love" or "Gift Ideas" or perhaps a seasonal theme.
Give your customers a reason to follow you by creating boards that they will find engaging and useful, such as "Top Tips" or "What's Hot".  Present statistics as an infographic that has visual appeal and can be 'pinned'.  When blogging use images that can be 'pinned' to your Pinterest boards, make sure that your website has a 'Pin it' button so that users can easily share your content on their Pinterest boards.
Pinterest may have some way to go to catch up with Twitter (500 million users) or Facebook (one billion users) but it is the fastest growing social media site of the moment; driving more traffic to websites and blogs than YouTube, Google+ and LinkedIn combined.