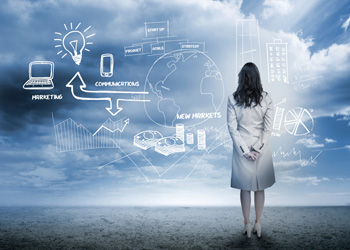 Employing an agency takes the strain away and ensures that you have a team of experts who can concentrate on planning, delivering and measuring your digital marketing activity, on time and on budget.
Congratulations, you've made the excellent decision to get help to market your product or service and hopefully you've realised that digital marketing is the future. Marketing and the world as a whole is rapidly changing from analogue to digital. There aren't many people now who don't have access to a smartphone, tablet, laptop or portable device. This is how people are accessing information and how you need to be communicating with your potential customers.
So, do you handle your digital marketing 'in-house' or do you appoint an external agency to work with you? Here are eight reasons why the agency approach could be the best option for your business –
The Digital Marketing Agency Strategic Approach
1. EXPERIENCE AND EXPERTISE
Many companies feel that if they employ someone with some digital marketing experience that is enough. But this is a constantly changing industry and a digital marketing agency will have a breadth of experience and talent and will be up to date with current industry practice and innovations.
An agency will provide specific expertise in campaign development, planning and analytics. An agency will help you to meet your goals the first time and even exceed them the next.
When you employ an agency the burden is taken from your shoulders and put into expert hands, leaving you more time to concentrate on other areas of your business.
2. TOOLS AND TECHNOLOGY
Digital marketing technology changes fast. When you employ a digital marketing agency you are not only getting access to the skills of the staff, but you will be benefiting from up to date technology and a powerful set of tools that incorporate the latest in Customer Relationship Management (CRM), marketing automation, lead intelligence and more.
Agencies are constantly updating their technologies, which are much more robust and intuitive than general-purpose tools.
3. PERSPECTIVE AND INTELLIGENCE
Of course you know your customers inside and out, but as they say it's always good to look at something with a fresh pair of eyes. A digital marketing agency has experience of customer behaviours generally and may have, or can acquire intelligence within your industry or on your competitors.
A fresh perspective can reinvigorate your marketing activity and open your eyes to previously unidentified opportunities.
4. COST AND RETURN ON INVESTMENT
Digital marketing can be very cost effective. The costs of maintaining a website, a blog and a social media can be fairly minimal. Creating content can involve a bit more time and money but there are no printing or advertising costs.
The software used by digital marketing companies used to be the domain of the bigger more corporate companies, but costs have come down in recent years and these tools are now available to smaller agencies improving and making you return on investment (ROI) easier to measure.
5. ADDED VALUE AND RESOURCES
A digital marketing agency will help you with everything from keyword lists and search engine optimisation (SEO) to the timing of blog posts and social media updates. You may need help to convince the decision makers in your organisation that digital marketing is worth the investment, an agency can help you to do that. Your agency may even offer in-house training sessions or training guides for your staff.
6. SCALE & FLEXILBILITY
An agency can design campaigns to reflect the size of your company and your budget but will have the flexibility to scale up or down depending on your needs at any given time. Some agencies will offer packages of services with monthly pricing options so that you can build you digital marketing costs into your budgets.
7. MEASUREABLE RESULTS AND FUTURE PLANNING
A digital marketing agency will be able to demonstrate exactly where your money and efforts are going. There are tools with an amazing ability to track and measure almost any kind of marketing activity. For example; who opened your email and when, what keywords and links are driving traffic to your website and what are customers looking at when they get there. An agency will be able to show you what the numbers mean and how the information can help future marketing. Being able to measure this activity also means you can calculate ROI.
8. PRIORITISING AND DELIVERING
If you were to go with the in-house option you could employ a new member of staff, hand it to your existing marketing department or spread the work across several staff. BUT other constraints of the business can often take priority and your digital marketing plans are shelved. Employing an agency takes the strain away and ensures that you have a team of experts who can concentrate on planning, delivering and measuring your digital marketing activity, on time and on budget.